OUR STORY
Founded in 1987, SPAG'S VINTAGE HOT SAUCE was made for and enjoyed primarily by Hollywood's elite who would insist Chef Spag's creation be a catering staple on set during filming of movies and special events. Chef Spags has now taken it one step further and is putting SPAG'S VINTAGE HOT SAUCE into the hands of foodies worldwide. Hand picked peppers from Spag's Farm go straight to Chef Spag's Kitchen blended meticulously for the right amount of heat and flavor then bottled and promptly delivered to your doorstep. Enjoy now what Hollywood wanted to keep a special secret to themselves.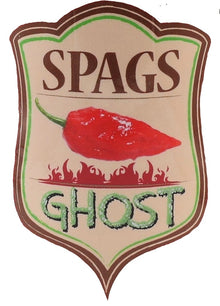 SPAGS GHOST
850,000 Scoville Heat Scale
This rare sauce is on fire with 100% sun ripened Bhut Jolokia Ghost peppers. Its clean, fresh and brings delecious flavor and heat.
SPAGS VINTAGE
350,000 Scoville Heat Scale
The flavor with distinct pepper notes is clean, smooth and has a brilliant hot finish.
Made In Michigan
Sustainably made in Michigan, USA by Spagilicous L.L.C.
"By far the best hot sauce I've ever tasted. Not only does the Vintage Hot Sauce have great flavor, it also has the perfect amount of heat. My husband LOVES the Ghost Hot Sauce."
Sarah B.
"Tried the Vintage Hot Sauce for the first time when I went into Spagburger Restaurant. I've been hooked ever since and bought a case of them to give out this holiday season."
Fred M.